Free shipping to all over the world on all orders
Nabulsi Olive Oil Soap (Al-Muftahin) صابون نابلسي المفتاحين
Regular price
$6.99
$0.00
Unit price
per


Nabulsi Olive oil soap
The weight of the piece ranges from 150 grams to 170 grams
Without harmful additives .. without any fresheners
Natural and pure
Hand Made
Toukan Factory
Brand: ALMuftahin
Region of Manufacture : Palestine - Nablus

There is also soap for another company in my Store.
For over a century, the Toukan family has been one of the champions of the Nabulsi soap makers and is still today maintaining the traditional craft in its original form. The formula for the soap is strikingly simple, a combination of virgin olive oil, water, locally supplied lime, and a basic sodium compound made by mixing the powdered ashes of the barilla plant, which grows along the banks of the River Jordan. The finished product is ivory-colored and has almost no scent.
Since the 14th century, Nablus has been the historical center of the soap industry throughout the region. A century ago, the city's thirty Nabulsi soap factories were supplying half the soap in Palestine. The industry declined during the mid 20th century following destruction caused by the 1927 earthquake 
Today, only two factories remain in production. 
The Tuqan factory is the oldest survivor of this once-prominent industry, and while business is no longer what is used to be, the factory continues to utilise traditional production methods to keep the industry alive.. The soap factory was registered in the Palestinian records in 1929 on the outskirts of the old city of Nablus, which is now the center of the city of Nablus and now owned by the heirs of Hafez and Abdelfattah Touqan. It began in 1872 ie its history dates back to nearly 140 years.
"The soap we manufacture, the 100 percent white olive oil, is used for bathing and washing together and doctors have been advising patients to treat skin diseases and skin care," says factory manager Nael al-Qabaj.
"The products of this factory have been exported to many Arab countries such as Jordan, Egypt, Lebanon and others since the seventies, in addition to that we are exporting to European countries such as France, Italy and Switzerland," adding that the factory is going to export to the states United Arab Emirates
"Nabulsi soap manufacturing in this factory is in accordance with standards approved by the Palestinian Standards Institution and the Royal Jordanian Scientific Society. Therefore, our products have obtained quality certificates, which is unusual and a milestone for the history of traditional industries. Qabaj points out that the production of the factory in the past reached 650 tons per year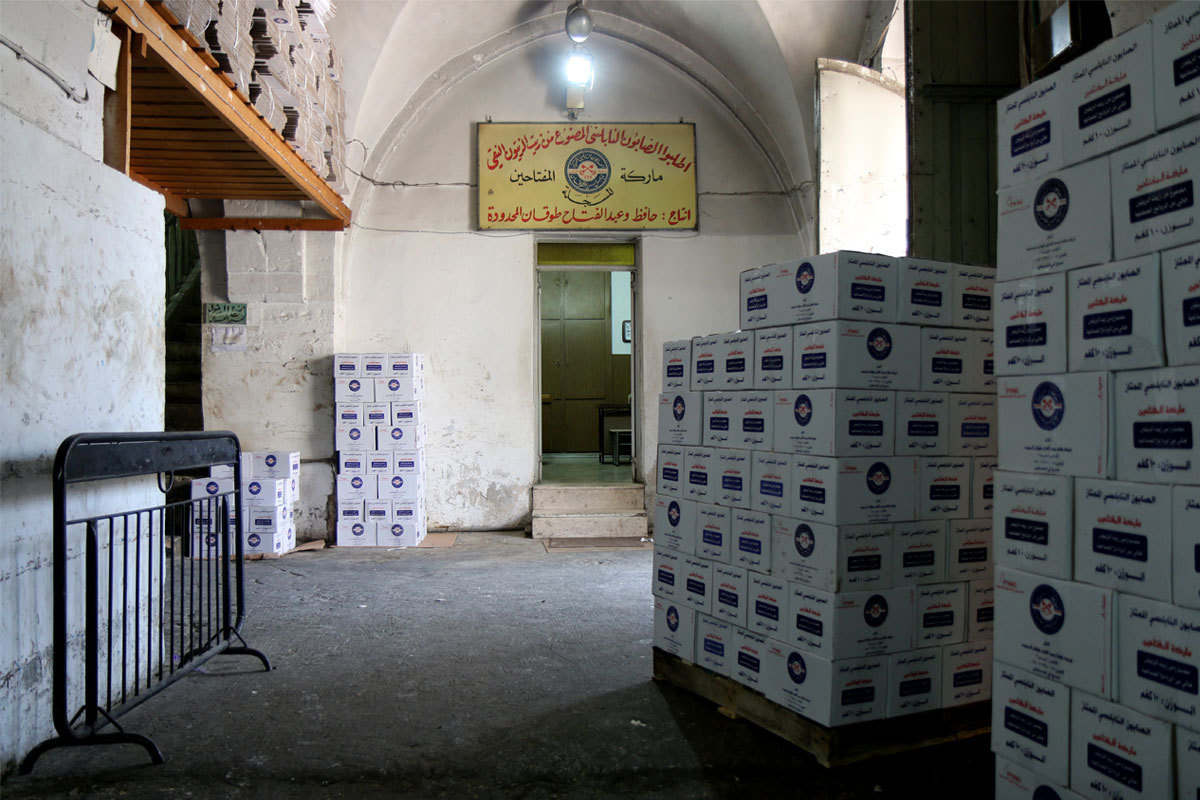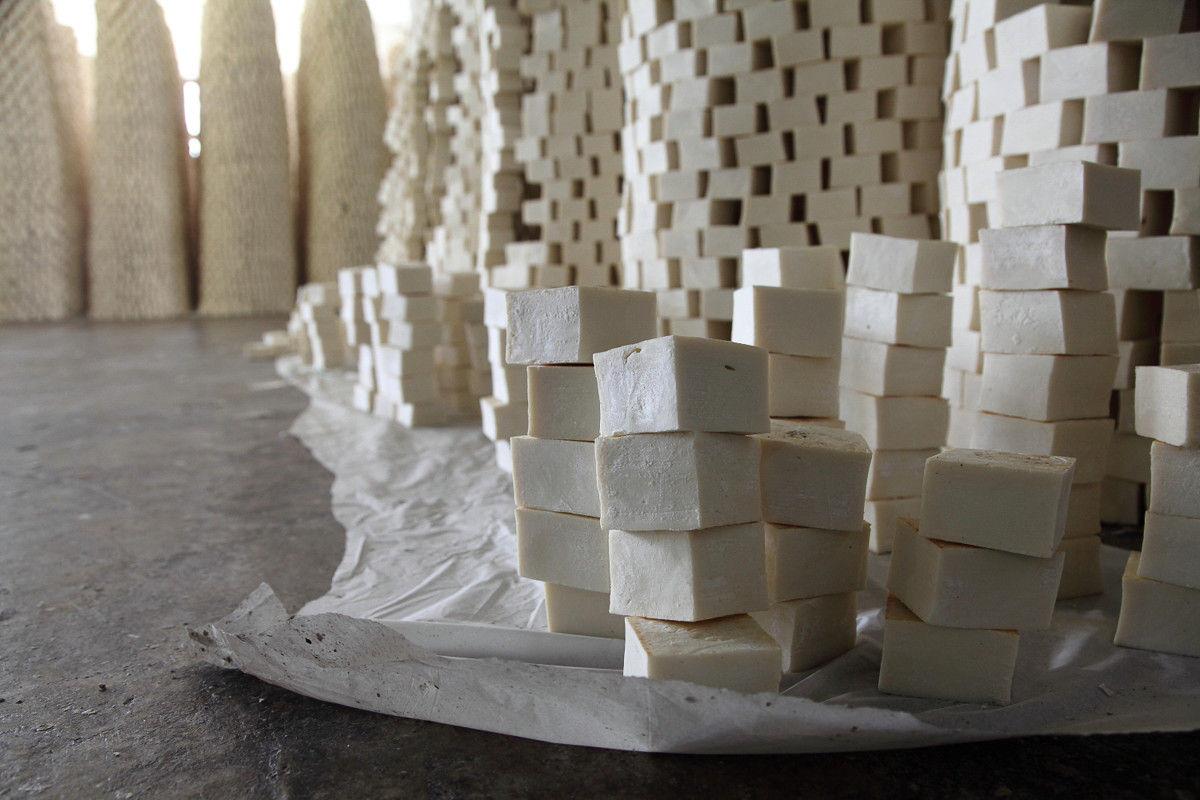 *******************************
 benefits of olive oil soap
 

Olive Oil has long been championed as a remedy for hair and skin, even in ancient civilisations. Its antioxidant rich properties are renowned for nourishing, cleansing, moisturising and protecting skin against environmental and free radical damage. Applied to the skin, Olive Oil provides vitamins and fatty acids which leave skin soft, supple and protected.as Olive Oil contains four major antioxidants including Vitamin A and E which allow it to work as such a potent protector, moisturiser and cleanser. Natural soaps made with a base of Olive Oil help to replenish the skin's natural oils to provide balance and lasting protection, and are free from the harmful artificial and synthetic ingredients and fragrances found in mainstream soap bars
Antioxidant Rich
You encounter free radicals every day as you expose yourself to food, pollution, pesticides and chemical beauty products. These free radicals damage cells, potentially causing disease and accelerating aging. Olive oil is a natural source of the antioxidants vitamins E and A, which fight free radicals -- and the benefits are there regardless of whether the oil is ingested or rubbed into the skin in the form of soap. Olive oil also contains oleocanthal, a compound touted for its anti-inflammatory benefits. Inflammation in the body can compromise your immune system and put you at risk for illness and disease, including chronic skin rashes, heart disease and digestive problems.


Long Lasting, Lightly Scented and Vegan
Olive oil soaps offer a pleasant, fruity aroma, rather than an overtly perfumed scent that can irritate sensitive noses. Soap made with olive oil is hard and lathers minimally, so the bars tend to last a long time and you get a lot of use out of your investment. Many commercial soaps are made with animal fats, rather than plant oils. Olive oil soap uses plant products, making it appropriate for people who wish to avoid using animal products.
Delivery Time :
Orders will be shipped the same day or the next day

I ship orders through economic shipping
In order to be suitable prices for buyers and inexpensive
ually you will receive your items within 3 - 5 weeks
In some cases it arrives in less time
but in some rare cases it might take longer
Depending on weather conditions, holidays
and international shipping arrangements
and the location of the country
*********************
Payment method through PayPal
Are the Safest Way to Pay Online.
Soon I will add other payment methods
*********************
I want to offer the best service to buyers and earn their trust
Be sure that you are dealing with the right person
I have 5 years experience in selling on eBay and online
I made this independent store
In order to reduce the price and cost for buyers
No sales fees, no taxes, no extra commissions
If you want to buy from my store on ebay
Via this link: www.ebay.com/usr/royal.store

If you want wholesale price or have any inquiry about anything
Please do not hesitate to send your questions.
You can contact us via the following ways
  email :  we@spiceer.com - support@spiceer.com - spiceershop@gmail.com
 WhatsApp :
+962 778290994
 O
ur page on Facebook : 
facebook.com/Spiceer
O
ur page on Instagram:
@spiceershop
Our page on Youtube :
Spiceer
---
Share this Product
---